Cleaning company hospitality
Cleaning company hospitality
Cleanliness is important in every sector. And hospitality is certainly a sector where customers attach great importance to spick-and-span surroundings. Whether they want to stay the night in a hotel, enjoy a delicious meal or have a quick drink, they expect hospitality businesses to be absolutely spotless. Orisma is the number one cleaning company for the hospitality sector, and we look forward to giving your customers that all-round experience.
Our services in the hotel sector
Want to turn a stay at your hotel into a wonderful experience? We can help! Obviously, you can count on us to clean your hotel rooms, but we do more than just that. We customise our services completely to suit your wishes and the needs of your hotel. We will be glad to help with:
Cleaning and stocking minibars
Corridor cleaning
Cleaning shared spaces: the lobby, restaurants, bars, gym, seminar rooms, etc.
Cleaning your restaurant or pub
Are you the proud owner of an elegant restaurant or cosy pub? Then you know it needs a lot of cleaning. And with all the other things you have to do every day, you simply don't have the time. We will be happy to help with our customised services:
Kitchen cleaning: maintenance of your professional kitchen, cleaning equipment, degreasing, disinfecting, etc.
Cleaning the bar and dining area: cleaning tables, chairs, the floor and bar
Building maintenance
Whatever kind of hospitality business you have, a tidy car park and clean facade make an immediate good impression. And not just that: they might be what makes someone decide to come inside or go elsewhere. So rely on Orisma for the maintenance of your building.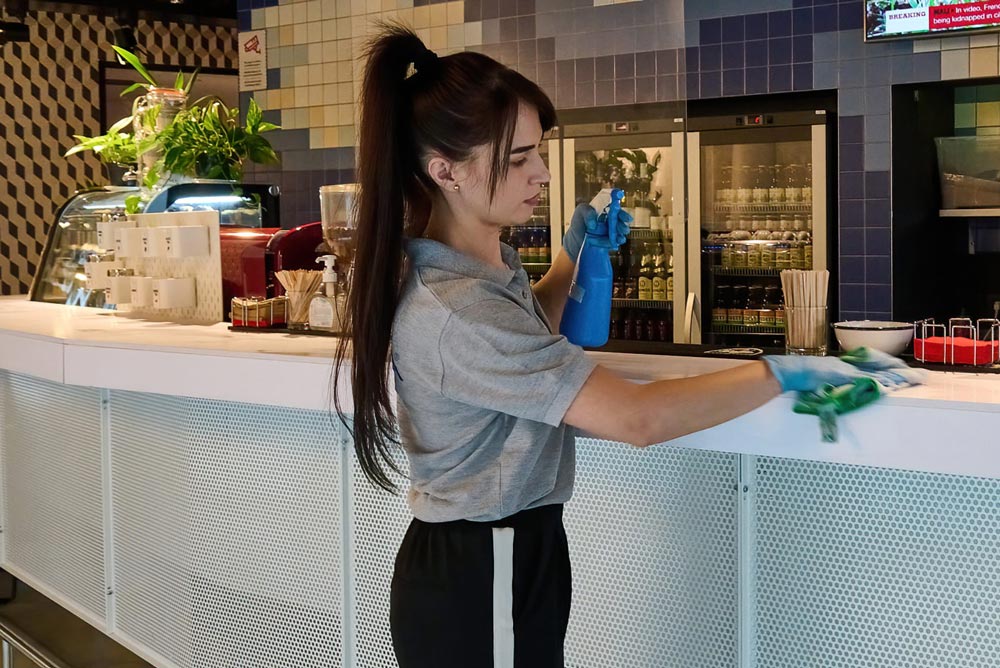 Do you want to find out more about our services as a cleaning company for the hospitality sector? As the number one cleaning company for the hospitality sector? Rely on Orisma to clean your hotel or restaurant. Give all your customers a five-star experience with Orisma's professional cleaning and maintenance services. Find out now how we can help you or request a quote with no obligations.